What Will Your New Year's Resolutions Be?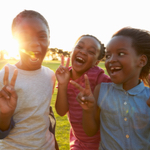 Have you ever heard of a "resolution?" A resolution is when you make a decision about something and stick to it, even when that gets hard. The New Year is the perfect time to make resolutions because it's full of opportunities and chances to improve yourself!
Think about what you can do better this year than last year. Make some new, good habits and get rid of the ones you don't like!

Be a better friend-maker. This doesn't mean you're bad at it now, but you can always get better! Make a point of talking to new people, learning their names, and asking what they like to do.

Share more. Sharing your things, like toys or candy, doesn't just mean you get less than you did before. When you share things with someone, the other person gets to enjoy the things you like, too. You both get to have a memory of how good those things are and you can be better friends because of it.
Learn something new every day. Look for things you don't know about, and ask about them! An easy example is new words. Get a dictionary, pick out a word you don't know yet and try to write a couple of sentences with it. It only takes a few minutes!
Be understanding. When you disagree with other people, or they're mean to you, there might be more going on than you see at first. This year, before you get mad, ask questions to see if the issue is actually a problem you can solve together.

Happy New Year!